User instructions for signing MS-Office documents using our UPC token (Summer release) through the AATL certificate.
Status: May 05, 2023
1 Basics
1.1 Goals of this document
A step-by-step guide to signing MS Office documents. By signing an MS-Office document, other users can no longer edit the final document. Otherwise the document is considered invalid.
2 Short version
Procurement of suitable certificate
The following product type of our UPC tokens allow MS-Office documents to be signed.
✓ UPC Bundle (Summer Release)
The following product types support the signing of MS-Office documents.
✓ COMPANY
✓ SIGNATURE
✓ AUTHENTICATION
✓ An overview of all products can be found here
Note: Your MS-Office document must have a compatible file format. If the current file format of your MS Office file is not compatible, you will be prompted to save the document in a different format. Please follow this prompt. Otherwise you will not be able to sign the document.
Protect document
✓ Select "File" → "Information" → "Protect document" → "Add digital signature".
✓ In the new window that appears, select the type of commitment under "Type of commitment", specify the purpose of the signature and select the certificate under "Change…".
✓ Under "Details" you can add further information about the signer. To add the signature click on "Sign".
3 Documentation in detail
3.1 Sign MS-Office document
Note: For this process you have to attach your UPC token to your PC.
Legend:
On the top left corner click on "File"
Legend:
Click on "Info" on the left Sidebar → "Protect Document" → Click on "Add a Digital Signature"
Legend:
Choose a "Commitment type"
Type the "Purpose for signing this document" in.
If you click on the "Details" button you can add more Informations about the signer
Choose your certificate after clicking on "Change…"
Legend:
Type in your password of the UPC-Token
Legend:
Click on "Ok" to complete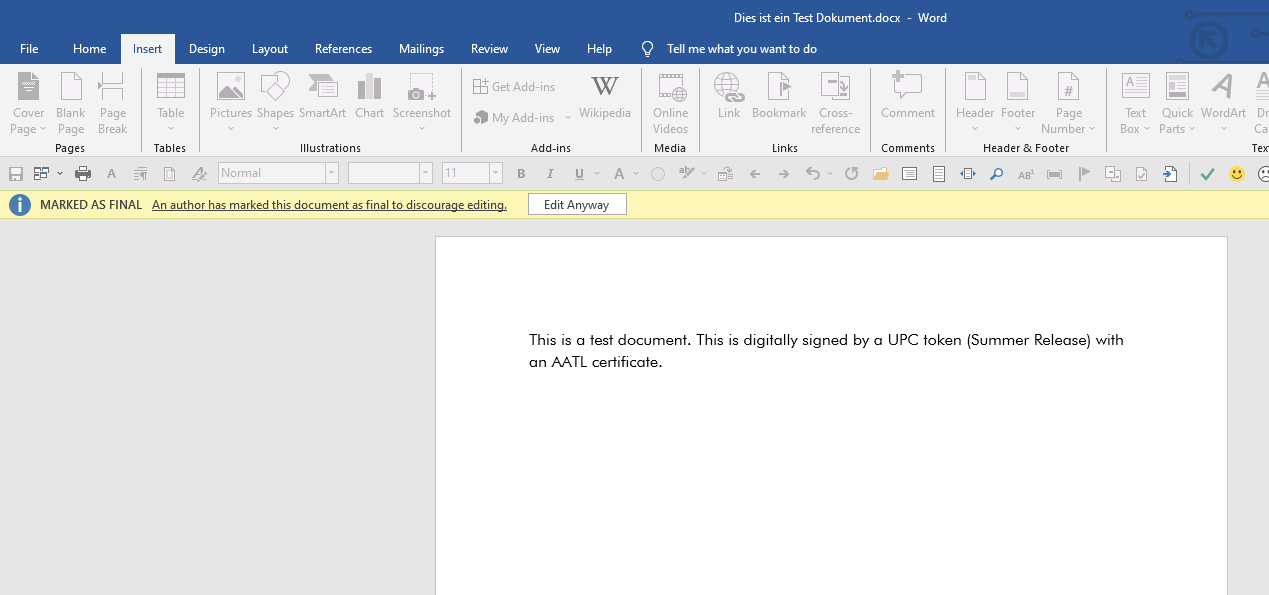 After a digital signature, the document is protected from any processing or manipulation. If the file is edited after a signature, the document becomes invalid! You can find more information about digital signatures in MS Office documents here.
You might be interested in that
While digitization reached almost every aspect of daily work, the necessity for handwritten signatures in B2B environments preserves printing paper its crucial role – and incurs costs. However, by implementing e-signatures, businesses can reduce expenses, streamline processes, and contribute to a more sustainable...
read more