From now to beyond – qualified timestamping with GLOBALTRUST
​
Timestamps link an electronic document with  authentic and secure time designation. The timestamp guarantees the existence of the document at the designated point in time and preserves its condition – it proves in a legally secure manner that the document has not been tampered with since then. Only qualified time stamps issued by an independent, recognized body in accordance with Regulation (EU) No. 910/2014 ("eIDAS") guarantee audit-proof evidence. Even in the event of a dispute in court, and throughout the EU. More and more companies are protecting their intellectual property with a time stamp, can clearly clarify priority issues or secure their business correspondence.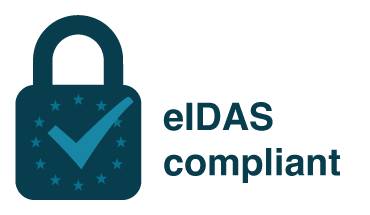 Your document with a GLOBALTRUST TIMESTAMP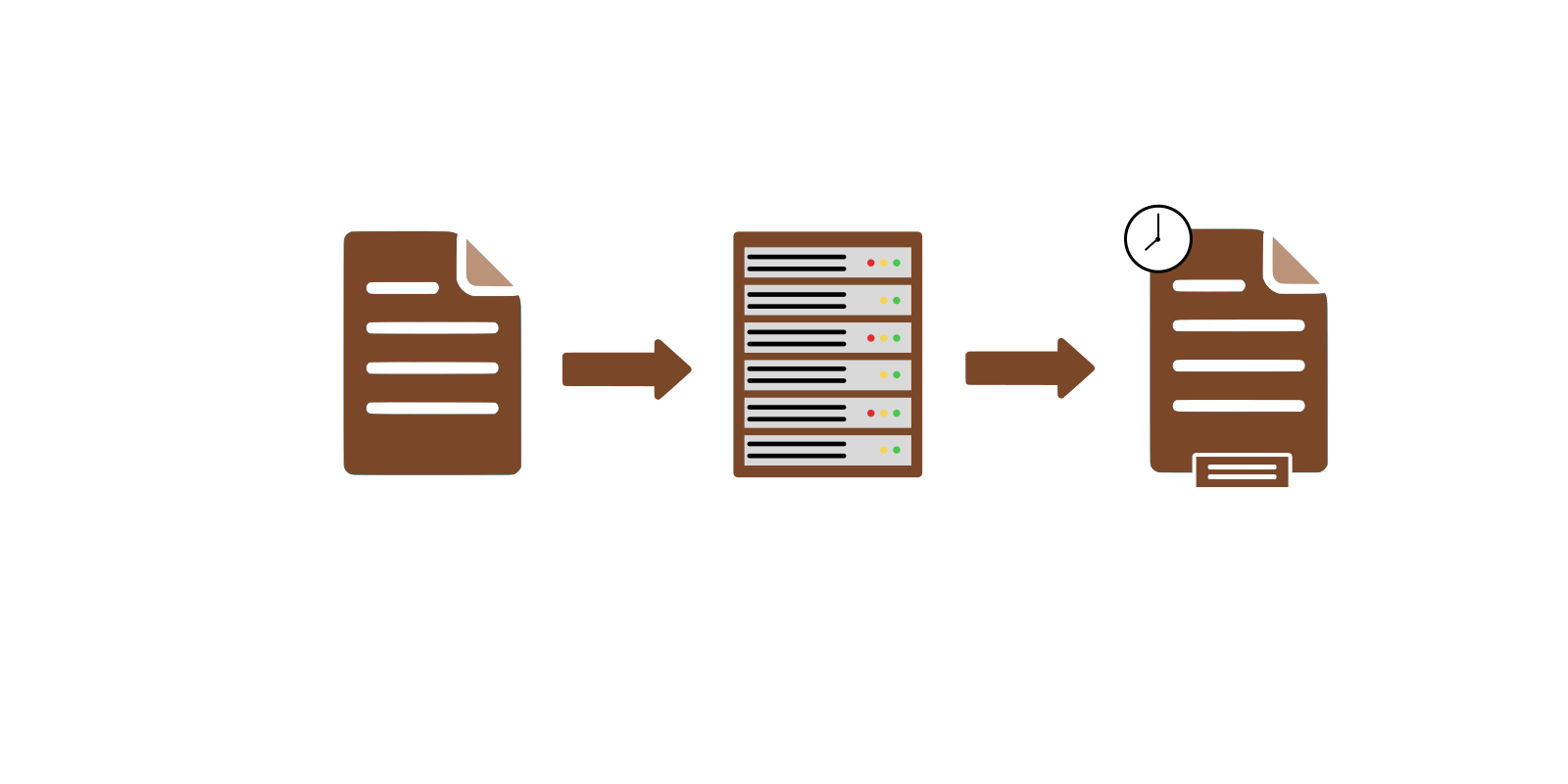 Integration depth – workflow scenarios for every enterprise size
Variant 1


Easy

Easy timestamping of single PDFs in Adobe DC – either in combination with a personal electronic signature, or as a sole time signature. 
Variant 2
Pro
For more demanding requirements: Time stamp allocation within the framework of specialized signature, ERP, and archive systems as well as automated and mass time stamp solutions GLOBALTRUST partners.
Variant 3


Enterprise

Develope your individual solution. GLOBALTRUST is happy to share many years of experience in the integration of complex signature and time stamp solutions with interested developers.
TIMESTAMP – authentic time designation worldwide
Qualified Timestamping Use Cases
Audit-proof archiving
Priority proof of intellectual property
Documentation of submission and receipt dates
Electronic procurement
Regulatory requirements, e.g. in gambling, GeBüV, Federal Procurement Act
Long-term archiving: re-stamping of old electronically signed documents
Qualified Electronic Registered Delivery Services (QERDS)
How does the qualified time stamp work?
Who can use GLOBALTRUST QUALIFIED TIMESTAMP?
What is needed to use it?
Automated timestamp services and bulk timestamps
Which hash algorithms are supported?
Which methods are supported?
Which ports are needed?
How do I create a timestamp request in Java?
read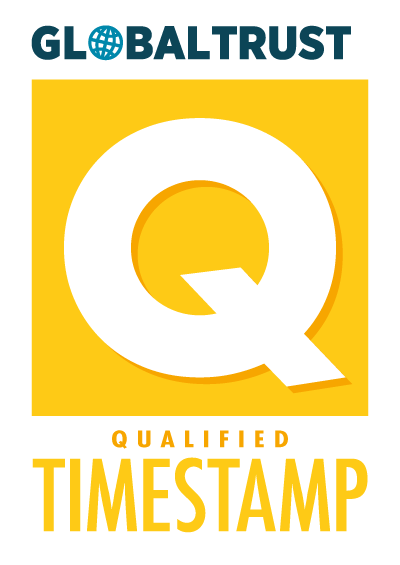 Qualified Timestamp
Need to place a secure time stamp?
Qualified time stamp according to eIDAS regulation
International standard compliant (RFC 3161)
Free long-term archiving of the time stamp at GLOBALTRUST
Single time stamp in the cent range
"As a collecting society for the copyrights of more than 27,000 members, we generate tens of thousands of management contracts every year. We sign them exclusively electronically – fully automated, completely legally secure and including a qualified time stamp.
"For two decades, we have been offering, among other things, customized e-tendering solutions for private companies and public-sector clients. Especially for public companies that are subject to the Federal Public Procurement Act, a legally secure processing of award procedures is the essential criterion. In order to be able to guarantee this legal security, we use a qualified time stamp from GLOBALTRUST. The integration into our systems was done quickly and without complications. We – and thus our customers – will continue to rely on this service for the next twenty years!"
Your benefits at a glance
Binding
Qualified time stamps enjoy the "presumption of accuracy" in court. Due to the eIDAS certification of the service, this applies throughout the EU area.
Confidential
Only the hash value, but never the content of your document is transmitted to GLOBALTRUST. The transmission of the hash code is also encrypted.
Flexible
Platform-independent work thanks to international standardization and close cooperation with great solution partners
Reliable
GLOBALTRUST archives all issued time stamps free of charge for 35 years.
Simple
Easy to use via free standard software: Adobe Acrobat Reader DC (requires a certificate for signature). Easy integration into existing systems.
Multi-Purpose
Time stamps offer numerous areas of application: signature software, access control and time recording systems, e-tendering platforms, patient records, cash register systems, accounting, ERP systems, …
Jede Sekunde zählt beim QUALIFIED TIMESTAMP von GLOBALTRUST
Wurde die Vertragskündigung fristgerecht abgegeben? Wann langte ein Antrag ein? Wie lange dauerte ein System-Ausfall? Wann war der Online-Check-In verfügbar? Wann langte eine Reklamation ein? In welcher Reihenfolge wurden Angebote gelegt?
Im Geschäftsleben zählt der
exakte Zeitpunkt – der Nachweis zeitgerechter Erklärungen entscheidet über Bestehen oder Nichtbestehen hoher finanzieller Ansprüche. Auch berufliche Rechtsvertreter können davon ein Lied singen. Dabei lässt sich die Frage "wer hat wann was
gemacht?" simpel, effizient
und unabstreitbar klären.
Purchase Time Stamps online
Get your subscription plan now, for instance:
1.000 qualified timestamps: EUR 185,00/annual
10.000 qualified timestamps: 1.700,00 EUR/annual
Or get your individual offer at sales.
*Best price guarantee: if a binding offer of an eIDAS-compliant certification service is submitted before conclusion of the contract or within 10 days after conclusion of the contract, the difference + 10% of the best price will be refunded.
few cents
per stamp  Best price guarantee*
Can I create qualified signatures with a timestamp?
No, a timestamp is a "time signature" that proves the exact time at which a document was present. At the same time, an intact time signature proves that the document has not been changed after it was attached (integrity).
The timestamp, however, does not indicate where or from whom a document originated (authenticity), nor does it express agreement with the document content ("content commitment"). These functions can only be covered with the help of (qualified) electronic signatures and seals. Here we have created a brief overview.
What happens if I need more or less than the ordered timestamps?
Unused time stamps expire at the end of the year. If your volume is higher than expected, you can increase the quota at any time or arrange automatic orders for additional quotas.
Our employee who used to manage the time stamps is leaving us - what to do?
The time stamp service does not work on a person-specific basis. The time stamp account can therefore of course continue to be used within the framework of the previous agreement.
Where are the hidden costs?
There are none. You only pay the package price. If you purchase our services through one of our partners with their software, setup, license or other costs may apply there.
GLOBALTRUST Solution Partners
Wir beraten Sie kostenlos!
How can we get in touch with you?
Our employees are available for an obligation-free consultation.
Availability: Mon-Fri 9:00-17:00
Technischal specifications
Interoperability through conformity with RFC 3161.
High time accuracy: average deviation below 10 milliseconds from normal time.
Supported protocols: HTTP, TCP/IP
OpenSSL support as of v1.0.1g
Support for numerous development libraries (IAIK, BouncyCastle)
Supported future-proof hash formats SHA-256, SHA-512, RIPEMD-16
Konditionen
Single time stamp in the cent range
Free archiving
Transparent billing without hidden costs
eIDAS best price guarantee*
Sensational conditions for resellers and distributors
While digitization reached almost every aspect of daily work, the necessity for handwritten signatures in B2B environments preserves printing paper its crucial role – and incurs costs. However, by implementing e-signatures, businesses can reduce expenses, streamline processes, and contribute to a more sustainable...
read more