GLOBALTRUST authentication
Never Trust, Always Verify.
Whether secure remote access, multi-factor authentication using hardware according to zero-trust criteria or highly secure machine communication in an Internet of Things environment: GLOBALTRUST AUTHENTICATION provides the appropriate TLS client certificate for your use case. GLOBALTRUST guarantees the accuracy of personal and company details and establishes verifiable trust between traders and buyers, companies and employees, business partners or machines and systems.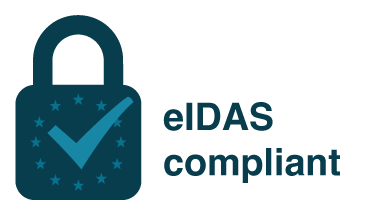 Client Authentication – overview

Certificate Management for every enterprise size
Variant 1


Easy

Single or batch requests forCLIENT-AUTHENTICATION certificates.
Variant 2
Pro
Self-managed certificate purchase, self-issuance and revocation on a 24/7 basis within pre-verified domain/IP areas. ("Enterprise RA")
Variant 3
Enterprise
Fully automated certificate management via proprietary solutions or open technologies (ACME)
Certificates for every authentication use case
Securely identify your customers, staff and suppliers
GLOBALTRUST AUTHENTICATION can be used everywhere where access should only be possible for verified users. This applies, for example, to numerous trading platforms, which sometimes even make such certificates mandatory. GLOBALTRUST offers customised solutions for all requirements according to the state of the art and support for system integration.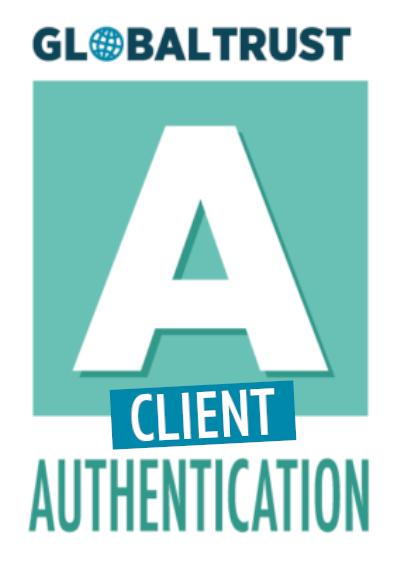 Client Authentication
Need a certificate for personal authentication?
Advanced Seal
Need a certificate for multi person usage?
Company certificate for shared usage

Public key binding to one or more team email adresses

use cases: TLS client authentication, PDF signature, e-Billing, signature of office documents (Word, Excel ..) 
Investment security thanks to recognised technologies
Through the use of X.509v3, the globally recognised standard for digital signatures and certificates, the use of RFC standards and the recommendations of ETSI (European Telecommunications Standards Institute), the standardisation institute of the EU, the users of GLOBALTRUST AUTHENTICATION have the security of having an ideal identification instrument in accordance with the state of the art, even in many years to come.
Authentication at the Unified Patent Court
Do you need a certificate to log in to the Unified Patent Court (UPC)? Due to the specific requirements, there is a separate product for this.
Your benefits at a glance
Compliant
Authentication certificates can help to fulfil legal and compliance requirements (NIS-1, NIS-2, DSGVO, PSD2, eIDAS, GoB)
Highly secure
From multi-factor authentication in remote work to Zero Trust and IoT applications: Certificates are a fundamental component of every IT security concept.
Customized
Certificates can be issued for persons, organisations, systems and devices – from digital ID cards and company stamps to secure machine communication, any solution can be represented
Seamless
Pre-installation and recognition of all GLOBALTRUST root certificates in the most important browser/OS programs
Simple
Easy to use with standard software or integration into existing workflow and document management systems. Compatible with the most important energy trading platforms (JAO, OKTE,… )
Future proof
Certification products 100% made in Austria as a future-proof and cost-effective alternative to US offers
True hardware and platform independence
GLOBALTRUST AUTHENTICATION can be used in any system environment. The certificates can be used in Microsoft applications as well as in LINUX solutions. The use of hardware-based signature creation devices is not mandatory, but also not excluded. The user can use any smart card, eToken or HSM solutions. GLOBALTRUST also issues the required certificate for these solutions.
Purchase client authentication certificate online
free
100 qualified timestamps
Schedule a free talk with our experts
How can we get in touch with you?
Our team is available for a non-binding consultation. Mon-Fri 9:00-17:00
More about Client Authentication

Download Data sheet GLOBALTRUST AUTHENTICATION (German)
Technical data
Interoperability through conformity with X509v3 and RFC 5280
Future-proof encryption with RSA 4096 or ECDSA secp256r1
Future-proof hash procedures: SHA-256, SHA-512, RIPE-MD160 or higher
Automated revocation service in case of certificate loss
rfc4511-compliant online directory service (LDAP – Lightweight Directory Access Protocol).
With GLOBALTRUST QUALIFIED TIMESTAMP support
Every Client Authentication Certificate holder also has the option to retrieve 100 qualified timestamps free of charge. These can be important for time-critical documents where proof of creation at a specific time is required (such as log files, submission documents, etc.). More
Pricing
Attractive volume solutions for high certificate volumes
Sensational conditions for resellers and distributors
100 qualified time stamps free of charge on request
Individual certificate profiles for own applications possible
While digitization reached almost every aspect of daily work, the necessity for handwritten signatures in B2B environments preserves printing paper its crucial role – and incurs costs. However, by implementing e-signatures, businesses can reduce expenses, streamline processes, and contribute to a more sustainable...
read more